Recently, Anthony Vandenberg, the president of U.S. Nippura, Inc., designed and built an entertainment room and outdoor deck theater in a real residence featuring Blue Ocean®. The entertainment room is equipped with a 100" 16:9 Blue Ocean® Rear Projection Screen and a 72" Blue Ocean® Rear Projection Screen was installed in the exterior wall for viewing on the back deck. We welcome all visitors but viewing is by appointment only!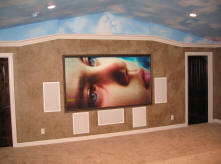 The showroom was not only designed to display the breathtaking performance of Blue Ocean® Rear Projection Screens, but also because many people utilize front projection since it is easy and space-friendly, despite the fact that it does not take full advantage of all of the advancements in optical and resolution technologies. We would like to show that it is not as difficult as popularly believed to build a space efficient rear projection media room. A room designed with Blue Ocean® will satisfy the dark room, purist videophile, as well provides any homeowner with the most versatile and useful entertainment space in the house. On top of superior optical performance, Blue Ocean® frees the entertainment room from all of the deficiencies of front projection. It's tough too, so durable that we believe it will probably revolutionize the concept of outdoor residential theater entertainment. Blue Ocean® provides full maximization of today's 1080 HD resolution as well as peace of mind in knowing that it will also maximize the higher resolutions of the future: no upgrade needed.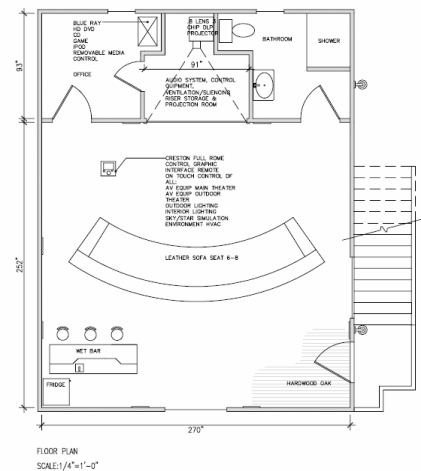 We have even compiled 2 case studies outlining the deficiencies of front projection, how to determine your throw distance and steps to take to reduce it, organizing A/V components, determining seating distances and angles, screen installation and framing, as well as basic tips to keep in mind while planning your design. We encourage you to read over the case studies and accompanying floor plans for any helpful tips.